Vilion (Shenzhen) New Energy Technology Co., Ltd.
O&M Cloud Platform
Flexibly meet the requirement of load expansion, demand management, investment saving, energy conservation and emission reduction.
With the development and expansion of industrial enterprises, the original power transmission and distribution facilities and installed capacity may be inadequate, so the industrial park is facing huge investment in capacity expansion. If power overload occurs only a certain period in a day, investing in the transformation and distribution facilities or reducing production has become a difficult choice for the company.

At the same time, in order to reduce the load of the utility grid, many countries have implemented the time-of-use electricity price, it means if manufacturing has to do at the peak period of electricity price, the enterprise will have to pay high electricity bills.

To boost the smooth and sustainable development of industrial enterprises, Vilion launched a solution named Industrial Park On-grid Microgrid.
Industrial Park On-grid Microgrid

The Industrial Park Microgrid System usually works in on-grid mode. When the detected grid load is low, the utility grid will charge ESS, accordingly, the ESS will provide electrical energy to part of the loads in the industrial park when the grid is overloaded so as to relieve the utility grid pressure, save the basic capacity expansion costs and construction investment.

With the expansion or shrinking of production scale, the existed ESS capacity configuration can be flexibly changed.

The system can be set up to charge the ESS from the grid at the low electricity price and discharge to loads at the peak electricity price to save electricity bills and realize investment returns.

By integrating with the solar and/or wind power generation system, the microgrid will be a green emergency power and promote green production, energy conservation and emission reduction.
Vilion and Vilion's IQ ViStarter will be your energy management expert and help you easily implement the above control.
Industrial Park On-grid Microgrid System Diagram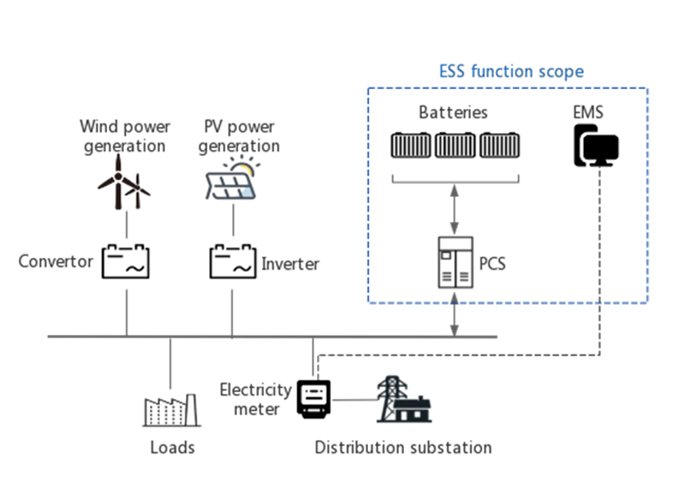 Energy storage technology makes you get rid of power outage and high electricity bills.
CONTACT US
Room 501, Building C, Lianzhan Industrial Park, No.2 Lanjing North Road, Zhukeng Community, Longtian Street, Pingshan District, Shenzhen, China