Vilion (Shenzhen) New Energy Technology Co., Ltd.
O&M Cloud Platform
Integrated Solar+ESS Charging Station
On-grid/off-grid operating to realize power transfer and peak-load shifting and achieve electricity cost saving.
Most traditional charging stations are limited by the number and type of chargers based on utility grid availability, suffering high charges, power overload and possible power outage during peak time. To solve this, Vilion launched a solution named Integrated Solar+ESS Charging Station.
Integrated Solar+ESS Charging Station Solution
ESS Charging Station can take power from the utility grid at off-peak time, stores it in battery and ready to discharge to the EV chargers at peak time to save electricity bill and get revenue.
Chargers will work normally even when there is a power outage or power overload of grid as ESS Charging Station is a reliable spare energy pool, which perfectly solve the grid capacity insufficiency without further investment on new transmission and distribution facilities.
Especially, solar energy will always be preferentially used to ensure the environment friendly mission.
Integrated Solar+ESS Charging Station System Diagram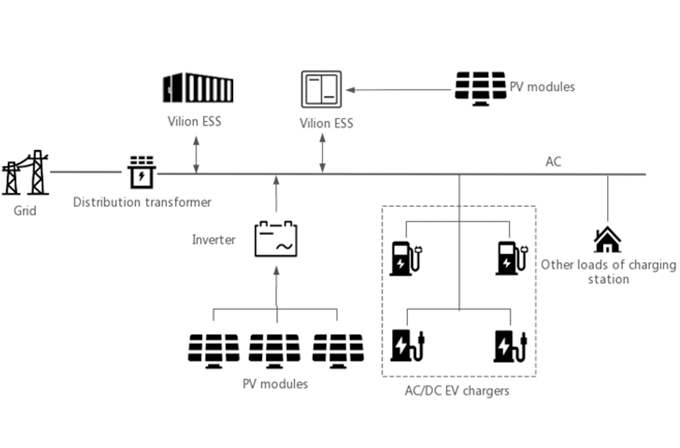 EMS remote control+ site SCADA system + solar inverter + chargers to coordinate running of whole charging station system.
CONTACT US
Room 501, Building C, Lianzhan Industrial Park, No.2 Lanjing North Road, Zhukeng Community, Longtian Street, Pingshan District, Shenzhen, China